Landfill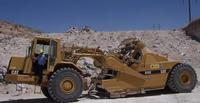 LANDFILL DISPOSAL HOURS:
MONDAY: 1:00 P.M. - 5:00 P.M.
TUESDAY: 1:00 P.M. - 5:00 P.M.
WEDNESDAY: 1:00 P.M. - 5:00 P.M.
THURSDAY: 1:00 P.M. - 5:00 P.M.
FRIDAY: 9:00 A.M. - 1:00 P.M.
SATURDAY: 9:00 A.M. - 1:00 P.M.

No hazardous or regulated waste such as batteries, tires, lead paint, pesticides, petroleum products and related materials will be accepted.
LANDFILL DISPOSAL FEES:
(Type I and Type IV)
Waste collection contractors, construction contractors, non-resident individuals, and other waste generators - $35.00 per ton.
Muleshoe residents disposing of locally generated household waste - No Charge (paid water bill may be required).

In an effort to encourage the eradication of dilapidated residential and commercial buildings as defined in the City of Muleshoe Standard Structural Code (1997 Edition), the above rates for waste generated from demolition of local substandard residential and commercial buildings will be discounted 50%.