Tour de Muleshoe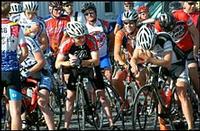 The Tour de Muleshoe rolls along scenic farmland and sandhills for you to ride either fast or slow as you choose. This is not a race -- enjoy yourself.
All three rides follow a triangle course. The 10 mile is flat with good shoulders, one rest stop at half way; the 40 mile begins with small rolling hills for the first 10 miles, followed by 12 miles of scenic sandhills, ending in 18 miles of small, smooth ups and downs; the 100k follows similar road conditions for a longer distancs and all end back in Muleshoe at the starting point.
For more information visit www.tourdemuleshoe.com
For more information, contact Lonnie Adrian (806) 272-3487
The Tour de Muleshoe is sponsored by the Heritage Foundation (806) 272-5873.