General Information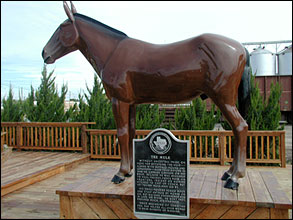 Welcome to Muleshoe!
Welcome to Muleshoe, Texas and thank you for taking time to learn about us through our website. We like to think of our site as an impressive window to opportunity. That includes your company, your family and the dreams you have to succeed in both. Muleshoe is a progressive, industry-driven city with many technological resources at your disposal. The citizens of Muleshoe are positive minded, forward thinking and very hospitable. Visit us, you will find a noticeable synergy within our entire community.
However, don't travel to town without allowing us to know you are visiting. Our sincere wish is for you to call ahead and let us know when you plan to arrive. It will be our honor and pleasure to show you around personally. The time together will be well spent. You'll have all the opportunities you need to ask questions, tell us your specific needs and discuss the future of your business. What you see and hear, we believe, will help place Muleshoe at the top of your list.
General information about Muleshoe, Texas
Muleshoe is in Bailey County and is located 70 miles NW of Lubbock, Texas on US Highway 84 and 30 miles SW of Clovis, New Mexico.
City Map
Today's Weather
Where We Are
History
POPULATION:
2010 Census - 5,158
Median resident age: 33.0 years
Median household income: $25,519 (year 2000)
Median house value: $33,500 (year 2000)
CLIMATE:
Average Maximum Temp – 72º
Average Minimum Temp – 40º
Average Annual Precipitation – 19"
Average Annual Snowfall – 11"
MUNICIPAL INFORMATION:
Council/Manager Form of Government
Annual Budget – $5,577,902
Volunteer Fire Department – 25 Members
Police Department – 9 Officers and 5 Dispatchers
Library – Muleshoe Area Public Library
UTILITIES:
Water, Sewer, and Sanitation - City of Muleshoe 806-272-4528
Electric - XCEL Energy 800-895-4999
Rural Electric - Bailey County Electric Co-op 806-272-4504
Natural Gas - Atmos Energy 888-363-7427
Telephone - Fivearea Telephone Co-op, Inc. 806-272-5533 or 800-741-6925
Telephone - West Plains Telephone Co-op, Inc. 806-272-5533 or 800-741-6925
Wireless Phone - Plateau Wireless Network 806-272-7700 or 800-741-6925
Internet Provider - Fivearea Telephone Co-op, Inc. 806-272-5533 or 800-741-6925
Internet Provider - Reach Broadband 800-963-4984 or 800-687-1258
Cable Television - Reach Broadband 800-963-4984 or 800-687-1258
TAX STRUCTURE:
Property Tax:
City of Muleshoe $0.7432/$100 valuation
Bailey County $0.9286/$100 valuation
Muleshoe ISD $1.3500/$100 valuation
Muleshoe Area Medical Center $0.4000/$100 valuation
High Plains Water District $0.0069/$100 valuation
Sales Tax: 8.25%
EDUCATION:
Public Schools:
Muleshoe ISD Administration 806-272-7411
Dillman Elementary 806-272-7382
Watson Jr. High 806-272-7364
Watson Jr. High 806-272-7439
Muleshoe High School 806-272-7303
Website www.muleshoeisd.net
Colleges:
South Plains College – Muleshoe School of Nursing 806-272-7540
HEALTH FACILITIES:
Muleshoe Area Medical Center 806-272-4524
25 bed Critical Care Access
4 physicians
24 hour Emergency Room
Kyle Sheets, M.D. Clinic 806-272-5561
Bruce Purdy, M.D. Clinic 806-272-7531
Robert Lepard, DDS 806-272-3446
Jerry D. Redwine, Optometrist 806-272-4705
Muleshoe Area Medical Center Outpatient Services 806-272-5561
Partain Chiropractic Wellness Clinic 806-272-4000

NURSING HOME:
Parkview Nursing Home 806-272-7578